Capacity building in sustainable finance is one of the key drivers to advance investments in more sustainable products. Therefore, in 2018, the SSF education workgroup, in collaboration with the Edmond de Rothschild Group, created an online education tool on sustainable investments tailored specifically to the needs of finance professionals. As of April 2020, the e-learning tool is available to the broad public.
The e-learning consists of four online modules, which each take approximately two hours to complete. Integrated case studies as well as sustainability profiling of clients offer an interactive learning experience of practical value. The e-learning is available in English, German and French.
In order to access the e-learning modules, you will be asked to register. Before you start, have a look at the short description of each of the four modules below.
SSF E-Learning Modules: Sustainable Investments in a Changing World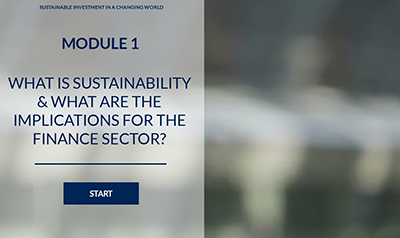 Module 1 defines sustainability and explains its implications for the finance sector. It helps course participants understand the driving forces of sustainability and sustainable investment at a wider societal level.
Module 2 explains the driving role of asset owners in the sustainable value creation process. Course participants will understand why and how institutional investors are increasingly choosing sustainable investment, and the implications for asset managers.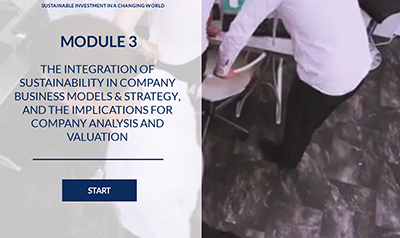 Module 3 explains the integration of sustainability in company business models & strategy, and the implications for company analysis and valuation. Course participants will understand the importance of sustainability and ESG issues for company performance.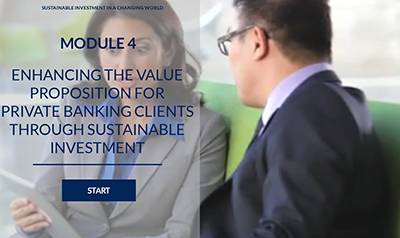 Module 4 provides insight into how to enhance the value proposition for private banking clients through sustainable investment. Course participants will understand the opportunity that sustainable investment represents to help private banks respond to the changing values and expectations of clients and some of the ways to engage with clients on this subject.
The e-learning was developed in collaboration with and thanks to the extensive support of the Edmond de Rothschild Group. The translations were possible thanks to the support of Raiffeisen, Vontobel and Zürcher Kantonalbank.