SSF Newsletter February 2021
Fresh Coat of Paint
Dear all
While 2021 is still young, the first weeks have already brought signs of an eventful year in sustainable finance. In early January, Switzerland officially became a supporter of the TCFD and announced the drafting of a bill to make the reporting recommendations binding. With two major Swiss investors announcing to move out of coal, the recognition of the risk of such investments is gaining ground amongst institutional investors.
For SSF, the year also starts with exciting news: the SSF Board has nominated the candidate for the SSF presidency, to be confirmed at the next General Assembly. Furthermore, we are proud to present our newsletter in a fresh coat of paint. Going forward, you will receive this newsletter on a monthly basis, with a break in July and January. Our goal remains to provide a concise overview on SSF activities and other developments and we are convinced sustainable finance will move to a next level in 2021 – great that you are on board for this exciting journey!
Kind regards and stay healthy,
Anja Bodenmann
Project Manager, Swiss Sustainable Finance (SSF)
SSF activities at a glance
SSF Board nominates new president
As current SSF President Jean-Daniel Gerber's third term is coming to an end in June, the SSF Board announced the nomination of Patrick Odier as his successor. His appointment is subject to election at the SSF Members' Assembly on 22 June 2021.
More >
Low-Carbon Economy video series
The full collection of short videos on our Financing the Low-Carbon Economy report is now available! Have a look at the videos to learn more about selected low-carbon finance instruments from the authors.
More >
Preparation for Market Study 2021
SSF is currently collecting data for the Swiss Sustainable Investment Market Study 2021. Banks, asset managers and asset owners managing assets from Switzerland can take part in the related survey until 8 March. Email us for more information.
Podcasts
SSF CEO Sabine Döbeli appeared in two podcasts this January, discussing the growth of sustainable finance and its future in Switzerland.
More >
Regulatory and market news
Swiss news
International developments
Market trends
New members and network partners
We are very happy to welcome the following organisations to our network:
The full list of our members and network partners, now standing at 168, can be found on the SSF website.
SSF and sustainable finance in the media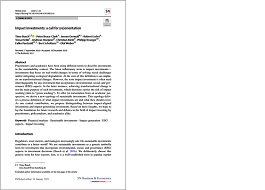 This academic article entitled "Impact investments: a call for (re)orientation" by researchers from the University of Zurich and others examines the different terms used to describe sustainable investments, and proposes a new typology for the field.
Interested in joining our network of members and partners? > Learn more
SWISS SUSTAINABLE FINANCE