SSF Newsletter May 2022
Deep Dive
Dear all
Much of the work around sustainable finance in the past decade was concentrated on the role of investors. In its latest publication, SSF shifts the focus to an equally important area. With a deep dive into the role of sustainability in lending, we not only provide a broad overview on academic findings about this topic, but also demonstrate best-practice examples of how ESG factors can be considered in different forms of financing. And we are convinced: lending offers an even more direct lever to influence companies than investing – a good reason to find out more about it in our report.
Lack of water – to a large extent driven by climate change - is perceived as a growing risk for operations in different sectors. The fact that assets might literally strand due to water shortage is impressively illustrated in a new report by CDP and Planet Tracker, commissioned by the Swiss Federal Office for the Environment.
Kind regards,
Sabine Döbeli
SSF CEO
SSF activities at a glance
Sustainability in Lending: New Report
This SSF report prepared in cooperation with the Association of Swiss Cantonal Banks (ASCB) and the Zurich University of Applied Sciences (ZHAW) highlights strategic approaches for sustainable lending and identifies four action areas.
Launch Event: Sustainability in Lending
Register for SSF Annual Event
Join us at our Annual Conference 2022 for keynote speeches from Mark Schneider, Nestlé CEO, and Marlene Amstad, FINMA President, as well as discussions on the role of finance in addressing biodiversity loss, followed by a panel discussion on the important role of transparency. Register here.
Regulatory and market news
EU News
International News
Signatories of the Science-Based targets initiative (SBTi) more than doubled during 2021, with 1082 signatories as of the end of December 2o21. Of these, only seven companies have approved targets for 2021.The rest have pledges near term climate targets, to be met before 2030 and 20% of these were aligned with 2°C and not the 1.5°C temperature scenario. All of this and more in their third annual report.
New members and network partners
SSF and sustainable finance in the media
30 May 2022, Interview with Sabine Döbeli on weapons exclusions, SSF CEO, Swiss radio SRF4 News
25 May 2022, Kreditfinanzierung als starker Hebel für eine nachhaltige Schweiz, The Onliner
24 May 2022, Using mortgages as Leverage for Climate Change, finews.ch
19 May, 2022, Parlamentarier wollen für die Schweiz eine Green Investment Bank (with statement of Sabine Döbeli), Swiss television SRF1
13 May 2022, L'Agefi, Les Swiss climate scores, outil contre le greenwashing, verront le jour cet été (print only)
13 May 2022, Le Temps, Des gains et une bonne (print only)
4 May 2022, NZZ, Ist das ESG, oder kann das weg?
Visit our website for more articles.
High and Dry: How Water Issues are Stranding Assets
The new report by CDP and Planet Tracker commissioned by the Swiss Federal Office for the Environment (FOEN) focuses on the risks (stranded assets) related to water regulations, high levels of pollution and community opposition. It highlights four case studies from sectors with high levels of water usage: oil and gas, electric utilities, coal and metal and mining. The authors see insufficient consideration of upcoming water shortages by financial institutions and suggest three key actions for financial institutions: assessing risks and impacts, disclosing data and managing risks and impacts.
More >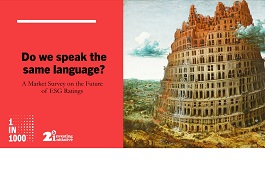 Do we speak the same language? A Market Survey on the Future of ESG Ratings
In this publication 1in1000, a research program by 2° Investing Initiative, summarises the results of a survey of sustainable finance professionals on ESG ratings. Aspects covered include what these ESG ratings are designed to do, how well they do it and the type of regulation that could further the market development.
More >
Kind Regards,
The SSF Team
Already a member or partner? Make sure you are featured on our website. Get in touch with us to upload your member or network partner profile now.
Interested in joining our network of members and partners? > Learn more
SWISS SUSTAINABLE FINANCE