SSF Newsletter September 2022
Connecting the dots
Dear all
The third edition of Building Bridges from 3-5 October 2022 will again feature a high-level Summit, followed by over 65 community-led events, and a networking village. This international event aims to create synergies, develop new initiatives, and make finance a key catalyst for change.
The strength of Building Bridges lies in its diversity. The scale and complexity of transitioning to a sustainable financial system requires the contributions of all sectors of society – the finance industry, companies, start-ups, governments, the UN, NGOs, academic institutions, philanthropists, asset owners, and more. Participating in Building Bridges gives you the opportunity to connect with different actors and develop joint projects. SSF, as co-founder of Building Bridges will be hosting or co-hosting four events during the week (see below).
As sustainable finance is becoming more and more mainstream, the expectations from investors are growing and Building Bridges offers the opportunity to debate how the financial sector could and should contribute to address the social and environmental challenges we are facing. A culture of collaboration is a key prerequisite for real positive solutions. The Swiss blended finance initiative lead be the SECO (more information at the Blended Finance Event on 4 October) is illustrative of such a collaborative approach and has the potential to mobilize public and private capital to foster investments reducing poverty.
Kind regards,
Jean Laville
Deputy CEO
SSF activities at a glance
Four Events at Building Bridges
This year at Building Bridges 2022, SSF will host or co-host four events: on 4 October, 16:00-18:30 - Innovative Blended Finance Solutions for Impact, on 5 October, 14:00-15:30- From International Sustainability Standards to the Swiss Climate Scores, on 5 October, 14:00-15:30 - Sustainable Investing 4.0: Big Data and AI for Maximal Impacts, on 5 October and 16:00- 17:30 - TNFD as a Solution to Address Biodiversity Risks and Dependencies.
SSF joins TNFD Forum
In September, SSF became part of the TNFD Forum, a consultative grouping of institutional supporters who share the vision and mission of the TNFD and contribute to various workstreams within the Taskforce.
SSF moderates panel at SGES
At the Swiss Green Economy Symposium (SGES), hosted by SIA and SSF, Hendrik Kimmerle, Senior Project Manager at SSF, moderated the panel at the Innovation Forum on "Sustainable Financing and Investing; How to provoke impact in the real economy?" on 7 September.
SSF encourages Member to complete Climate Data & Indicators survey
As a member of Eurosif, SSF encourages its network to complete their climate data & indicators survey until 7 October 2022. Eurosif hopes to better understand which climate-related data are truly decision-useful for investors and how these strategies can be improved. The survey takes around 30-45 minutes.
Regulatory and market news
EU News
International News
The Network for Greening the Financial System (NGFS) published their third version of climate scenarios, which is consistent with the scenarios assessed in the Sixth Assessment Report of the Intergovernmental Panel on Climate Change (IPCC) for the first time, and two accompanying documents that aim to foster climate-related risks into the work of central banks, supervisors and other players.
New members and network partners
ZHAW is offering a new course "Weiterbildungskurs (WBK) Sustainability and Financing" for the first time in November on Sustainability and Financing. Learn more about this SAQ Corporate Banker CCoB (Certified Corporate Banker) and KMU Client Advisor course taking place in German on the ZHAW website.
A new CAS in ESG and Sustainable Management at the HEG-FR, co-organised by CCRS, starts on 9 November 2022. Visit the course webpage for more information.
The CAS in Sustainable Finance from the HEG is now available as an online course starting on 16 January 2023.
For more information on current educational programmes focusing on sustainability and finance, visit the SSF landing page on Evrlearn.
22 September, Vaduz, Liechtenstein Workshop of Sustainable Finance 2022
22 September, Geneva, Geneva Forum for Sustainable Investment (GFSI)
23 September, Lugano, ZHAW/SSF, Sustainability and Innovation for Finance and Commodity Trading
3-6 October 2022, Geneva,: Building Bridges Week 2022

SSF Events:

4 October, 16:00-18:30 - Innovative Blended Finance Solutions for Impact
5 October, 14:00-15:30 - Sustainable Investing 4.0: Big Data and AI for Maximal Impacts
5 October, 14:00-15:30 - AMAS/SSF Joint Workshop: "From International Sustainability Standards to the Swiss Climate Scores"
5 October, 16:00- 17:30 - TNFD as a Solution to Address Biodiversity Risks and Dependencies

6 October 2022, Zurich, SFI/SSF, Sustainable Finance Conference: How Finance Enables Positive Change
28 October 2022, Zurich, Nachhaltigkeitsregulierung: Zielkonflikte der Unternehmen und Rolle des Rechts
2 November 2022, Zurich, ZHAW/ SSF, Big Data and AI for Sustainable Investing – from Biodiversity Risks to Sustainable Gold
SAVE THE DATE: 8 November 2022, Zurich, SSF Annual Sustainable Finance Education Forum
SAVE THE DATE: 9 November 2022, Geneva, SSF Annual Sustainable Finance Education Forum
SSF and sustainable finance in the media
Transitioning to a Net Zero and Nature Positive Economy: Central banks and financial supervisors mandate to tackle twin environmental crisis
WWF Switzerland and WWF Denmark published a new report directed at those responsible for monetary policy and financial regulation to actively encourage the mitigation of climate change and the restoration of biodiversity. The report defines a precautionary approach for central banks and financial supervisors and defines both heuristic guidelines for financial and price stability stewards.
More >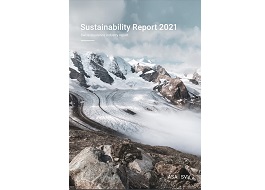 Sustainability Report 2021: Swiss insurance industry report
The Swiss Insurance Association's third report on sustainability contains information on the insurance industry's progress and priorities of ESG aspects of sustainability in the Swiss insurance industry. Climate change should be treated as an additional risk factor that has repercussions for existing risk categories. Therefore there are a number of opportunities for those players that integrate sustainability elements and adhere to international frameworks such as the Task Force on Climate-Related Financial Disclosures (TCFD).
More >
Kind Regards,
The SSF Team
Already a member or partner? Make sure you are featured on our website. Get in touch with us to upload your member or network partner profile now.
Interested in joining our network of members and partners? > Learn more
SWISS SUSTAINABLE FINANCE