SSF Newsletter October 2022
Spotlight on Nature
Dear all
This month many of us gathered in Geneva at Building Bridges 2022 to discuss, learn and network across institutions and sectors. Reflecting on the progress made since last year, I am glad about some key achievements and the leading role taken by the financial industry in COP26 surrounding GFANZ net-zero commitments. However, our world is currently in a plural of crises. We have breached 5 out of 8 planetary boundaries. We are experiencing a global climate crisis, an acute energy shortage and a stream of refugees linked to various conflicts. In order to overcome such problems we must foster global solutions - and the financial sector has to be part of them. Yet, closer cooperation with other parts of the economy and politics are a prerequisite for effective answers to the issues we all face. I hope the Building Bridges week managed to illustrate that joint action has started and many seeds of change have already been sewn. Since last year, we have made good steps forward, but must now commit to tackling these crises with urgency and speed. To delay further is no option.
Some key initiatives highlighted in this newsletter such a first template for the Swiss Climate Scores, the Swiss Consultation Group for the TNFD and the launch of NatureFinance were announced at Building Bridges. The large event SFI and SSF held in Zurich, complemented the rich series of events. Read about these and other important developments below.
We look forward to continue working with our great network in further accelerating the needed change.
Kind regards,
Patrick Odier
SSF President
SSF activities at a glance
Five SSF Events as part of Building Bridges 2022
Swiss Climate Scores Template launched
Prepared jointly by SSF and AMAS, the Swiss Climate Scores Template was published at Building Bridges. The template aims to allow for standardised calculation of the different indicators and allow data to be displayed uniformly.
SSF and GCNSL jointly launch the Swiss Consultation Group to the TNFD
Finance can play an important role in protecting nature and biodiversity. SSF and UN Global Compact Network Switzerland and Liechtenstein (GCNSL) have collaborated to establish the Swiss TNFD Consultation Group. Read the press release here.
SSF/ZHAW Novel Data Solutions Event in Lugano
A joint event in Lugano on 23 September from SSF and ZHAW, supported by Innosuisse, presented several interesting projects surrounding sustainable commodity trading and how technological solutions can play a role in this.
Regulatory and market news
Swiss News
EU News
International News
Market News
New members and network partners
We are happy to welcome the following organisation as new SSF members:
The full list of our members and network partners, now standing at 221, can be found here.
28 October 2022, Zurich, Nachhaltigkeitsregulierung: Zielkonflikte der Unternehmen und Rolle des Rechts
2 November 2022, Zurich, ZHAW/ SSF, Big Data and AI for Sustainable Investing – from Biodiversity Risks to Sustainable Gold
8 November 2022, Zurich, SSF Annual Sustainable Finance Education Forum
9 November 2022, Geneva, SSF Annual Sustainable Finance Education Forum
SAVE THE DATE: 17 November, SSF Webinar, EU Regulatory Update (SFDR/Taxonomy/MiFID II) with Eurosif
SAVE THE DATE: 25 November, SSF Webinar with EY, Practitioners' Guide on the Integration of Sustainability Preferences into the Advisory Process for Clients with guest speakers and insights on practical implementation
SSF and sustainable finance in the media
SFI Public Discussion Note: Sustainable Finance in a Shifting World Order
This publication summarises research on sustainable firms and provides an overview on current research including the pricing of sustainability and investor preferences and the value of sustainable attributes against the backdrop of current crisis. The focal points are policy and climate in pursuing a sustainable future.
More >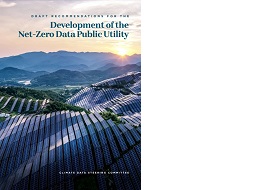 Draft Recommendations for the Development of the Net-Zero Data Public Utility
This report details the Climate Data Steering Committee (CDSC)'s proposed recommendations for climate transition-related data. The Utility is designed to be built as part of ongoing enhancements to the United Nations Framework Convention on Climate Change (UNFCCC)'s Global Climate Action Portal and will therefore also support increased integration of private sector commitments and actions within the UNFCCC stocktaking and recognition processes.
More >
Kind Regards,
The SSF Team
Already a member or partner? Make sure you are featured on our website. Get in touch with us to upload your member or network partner profile now.
Interested in joining our network of members and partners? > Learn more
SWISS SUSTAINABLE FINANCE