SSF Newsletter March 2023
Unprecedented
Dear all
The enforced take-over of Credit Suisse by UBS – backed by massive guarantees by the Swiss National Bank and the State – painfully illustrates how bad risk management and lack of good governance can undermine the competitiveness not only of an individual bank, but of a whole financial centre. It will take months to understand the implications of this unprecedented event but one thing is clear: we cannot achieve a sustainable financial centre if fundamental governance principles are disregarded. Environmental challenges will only be addressed effectively, if the S and the G in ESG are receiving the attention they deserve.
In early March, SSF revealed its new strategy 2023-2024 with a stronger focus on shaping Swiss frameworks and on a more intense dialogue with representatives of all sectors. Different thematic platforms will strengthen the interaction with all members.
Institutional investors are an important and growing SSF member category. Seeing that the assets managed by Swiss pension funds and foundations amounted to more than one trillion Swiss francs in 2022, they can play a key role in supporting the economy's transition to a sustainable and carbon-neutral future by taking sustainability factors into account in their investments. With a new E-learning module designed specifically for board members of pension funds and foundations SSF aims to plug knowledge gaps and support a faster adoption of such approaches.
Kind regards,
Sabine Döbeli
SSF CEO
SSF activities at a glance
New SSF Strategy and Stronger Member Involvement
SSF has presented its new strategy focusing on four key areas: shaping Swiss frameworks, engaging key stakeholders, informing on best practice and creating supportive tools. To strengthen interaction with members, four platforms were created, namely on education, investing, financing and for asset owners.
New E-learning for Institutional Asset Owners
Institutional investors play a key role in supporting the economy's transition to a sustainable and carbon-neutral future through sustainable investments. SSF's new e-learning module for board members of pension funds and foundations aims to fill knowledge gaps and propose approaches to a sustainable investment strategy. See the press release in English, French and German.
New Section of SSF Website: Regulation
With increasing regulatory activities in the area of sustainable finance, SSF has restructured this part of its website to provide an encompassing overview on key regulatory frameworks for Swiss market players. Visit the site to get compact and updated information.
Regulatory and market news
New members and network partners
We are happy to welcome the following organisations as new SSF member:
The full list of our members and network partners, now standing at 234, can be found here.
23 March 2023, SSF/PRI Workshop for Institutional Asset Owners: Embedding Sustainability in Asset Manager Selection & Monitoring, Zürich
30 March 2023, SSF/ZHAW Event: Sustainable Real Estate: Solutions using Satellite Images, Winterthur, Register here
Save the Date: 22 June 2023, SSF Annual Conference 2023, Bern
SSF and sustainable finance in the media
Point of No Return 2023: ShareAction Market Study
In this report, the NGO ShareAction ranks 77 major asset managers, who in total control over $77 trillion of assets under management, from best to worst in a league table. It ranks them based on their responsible investment policies and practices including their ambition, scope and transparency of these firms' approaches to climate, biodiversity and people.
More >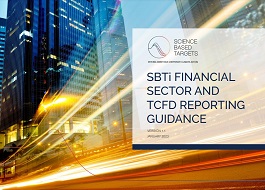 SBTi Financial Sector and TCFD Reporting Guidance
Financial Institutions (FIs) can identify and manage climate-related financial risks and opportunities through the adoption of relevant frameworks on risk disclosure and science-based targets. This report from SBTI-FI provides guidance on how to use backward-looking emission-based metrics to quantify financed emissions alongside forward-looking target-based metrics (GHG targets) to evaluate alignment to 1.5C pathways and contextualize GHG metrics and targets within broader physical and transition risks considerations.
More >
Kind Regards,
The SSF Team
Already a member or partner? Make sure you are featured on our website. Get in touch with us to upload your member or network partner profile now.
Interested in joining our network of members and partners? > Learn more
SWISS SUSTAINABLE FINANCE