SSF Newsletter November 2022
Inquiring Minds
Dear all
This month SSF focused attention on the importance of education. Only if all finance professionals are familiar with the main sustainability challenges and their role for financial services, will we achieve our goal of a sustainable financial centre Switzerland. Greater integration of sustainability topics into different finance professions – ranging from client advisors to C-level management – is vital. Additionally, to achieve the cultural change needed to truly embed sustainability on an organisational level, educational and training programmes must also include skills in what are known as the '4C's': Critical Thinking, Creativity, Collaboration and Communication. Through our efforts this month in hosting our 2nd Annual Forum for Sustainable Finance Education in Zurich and Geneva and in publishing a Guidance on Sustainable Finance Learning Content, SSF hopes to contribute to industry efforts in providing better and more targeted education and training to all finance professionals.
Kind regards,
Alberto Stival
Director Educational Development
SSF activities at a glance
SSF launches Guidance on Sustainable Finance Learning Content
SSF published guidelines for educational experts providing training in the field of sustainable finance. The document contains essential study topics and optional topics for in-depth study. It is intended as guidance for training providers and managers looking for education and training opportunities tailored to specific profiles. The guidelines should be seen as recommendations for excellence in sustainable finance training.
2nd Annual Forum for Sustainble Finance Education
The Annual Forum for Sustainable Finance Education, held on 8 November in Zurich and 9 November in Geneva, brought together professionals from the sustainable finance education field to discuss the developments and needs in embedding the topic of sustainability into professional and academic programmes. Find the presentations and photos on our website.
Member Webinar on EU-Regulation: State of play, challenges and outlook (Taxonomy, SFDR, CSRD, MiFID II)
SSF held a member webinar on EU regulation on 17 November on the current state of play of EU regulation. Katja Brunner, Director Legal & Regulatory at SSF, was joined by Hugo Gallagher, Senior Policy Advisor at Eurosif. The speakers emphasized the challenges in the implementation of the various EU Sustainable Finance regulations. SSF members can request access to the webinar material.
SSF/ZHAW Novel Data Solutions
As part of a networking series on Novel Data Solutions, SSF and ZHAW hosted an event around big data and AI. Covering topics from biodiversity risks to sustainable gold, the event brought together players to discuss how currently available data can support the urgent action needed within the financial industry to protect natural resources. A short summary and the presentations can be found on our website.
Regulatory and market news
Swiss News
EU News
International News
Market News
New members and network partners
We are happy to welcome the following organisation as new SSF members:
The full list of our members and network partners, now standing at 225, can be found here.
The course "Fit for Sustainable Finance" is being offered for a second time in spring 2023 (start: March 7, 2023). The course is an executive education program by the Swiss Institute of Banking & Finance at the University of St. Gallen and is targeted at finance professionals and people with a general interest in sustainable finance.
A new book on the basics, strategies and implementation of Sustainable Finance by the authors Mirjam Staub-Bisang, Manfred Stüttgen and Brian Mattmann is available now.
For more information on current educational programmes focusing on sustainability and finance, visit the SSF landing page on Evrlearn.
SSF and sustainable finance in the media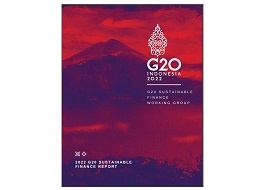 2022 G20 Sustainable Finance Report
This report summarizes the work of the Sustainable Finance Working Group (SFWG) in 2022. SFWG work has been anchored in the G20 Sustainable Finance Roadmap (the "Roadmap") actions, endorsed as voluntary by G20 Leaders at the 2021 Rome Summit, and recognized earlier this year by the G20 FMCBGs as critical to the achievement of the 2030 Agenda for Sustainable Development.
More >
Net Zero and Beyond
South Pole's 2022 net zero report – based on a survey of over 1,200 sustainability leaders representing 12 countries and 15 sectors – shows that today, 75% of businesses plan to talk about their science-aligned climate targets. The financial industry leads the way in certain aspects with already 94% of organisations polled have set net-zero targets.
More >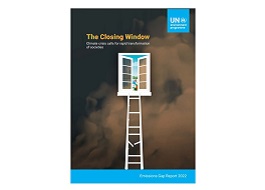 Emissions Gap Report 2022
The report is the 13th edition in an annual series that provides an overview of the difference between where greenhouse emissions are predicted to be in 2030 and where they should be to avert the worst impacts of climate change.
More >
Sizing the Impact Investing Market 2022
The latest GIIN report, Sizing the Impact Investing Market, spotlights two areas of development in the market that are becoming increasingly prevalent: green bonds and corporate impact investing. The GIIN estimates the size of the worldwide impact investing market to be USD 1.164 trillion.
More >
TNFD Financial Market Readiness Assessment
This report presents the state of play of financial institutions and their expectations towards the Taskforce on Nature-related Financial Disclosures (TNFD), reviewing the current level of integration of nature-related risk assessment and reporting in the decision-making processes of selected institutions.
More >
Kind Regards,
The SSF Team
Already a member or partner? Make sure you are featured on our website. Get in touch with us to upload your member or network partner profile now.
Interested in joining our network of members and partners? > Learn more
SWISS SUSTAINABLE FINANCE