SSF Newsletter November 2021
Net Zero in Focus
Dear all
The Glasgow Financial Alliance for Net Zero (GFANZ), chaired by Mark Carney, UN Special Envoy on Climate Action and Finance and former governor of Bank of England, brings together over 450 firms (with total assets of around USD 130 trillion) from the leading net-zero initiatives across the financial system to accelerate the transition to net-zero emissions by 2050 at the latest. It is one of the more encouraging signs of COP26, that private finance set such ambitious targets.
SSF has encouraged its members to sign one of the recognised net-zero commitments ahead of COP26. As of now, 24 members have committed to a net-zero goal. With this, Swiss financial market players form part of the large global mobilisation of the finance sector to contribute to the objectives of the Paris Climate Change Agreement. In yesterday's announcement, the Swiss government stressed the importance of such private sector action.
In early December, Switzerland will build on the momentum created in Glasgow and hold the Building Bridges Week in Geneva, hosting 77 sustainable finance events. As there is no time to be complacent, Building Bridges provides the opportunity to create new networks and further innovate to use private finance to foster sustainable solutions.
Kind regards,
Jean Laville
Deputy CEO (SSF)
SSF activities at a glance
24 SSF Members with Net-Zero Pledges
The number of financial services companies, committed to net-zero has been growing constantly in the last months. Swiss Sustainable Finance (SSF) is proud to announce that already 24 of its members are signatories of net-zero pledges: 14 Swiss and 10 International Signatories are contributing to the Glasgow Financial Alliance for Net Zero (GFANZ). Read the statements of SSF members committing to net-zero goals on our website.
Join SSFs Development Finance Event at Building Bridges, 1 December
SSF is hosting the key conference "Scaling Private Investments for Impact Success Factors for Private-Public Collaboration". This event will illustrate how successful public-private cooperation accelerates progress towards the SDGs and showcase innovative solutions from Switzerland's broad impact ecosystem. Read more.
Invitation to Roadmap Launch at Building Bridges
Swiss Sustainable Finance (SSF) is inviting you to the official launch of the "Roadmap for key Swiss Financial Players". The announcement by Patrick Odier, SSF President and Sabine Döbeli, SSF CEO, will take place on 1 December, 11.45h, at the Village of Building Bridges. Read more.
SSF held Annual Forums for Sustainable Finance Education
These two events highlighted the growing importance of sustainable finance education and allowed experts to share their experiences and gather for networking. Please find the presentations of these events on the updated Education section of our website.
SSF Evrlearn Page
SSF is happy to unveil our new collaboration with Evrlearn, a leading Swiss online learning platform, on which SSF is curating sustainable finance education offerings. Visit the SSF page on Evrlearn to get a course overview.
SSF on air in SRF Börse and RSI
Our SSF CEO, Sabine Döbeli, spoke on SRF Börse about the importance of net-zero commitments within the financial sector and what is needed to prevent greenwashing.
In addition, Alberto Stival, Representative Ticino and Director of Education, was on the prime time RSI Telegiornale and RSI Tempi Moderni speaking about sustainable finance and its importance in relation to global climate change.
Regulatory and market news
Swiss News
The Federal Council adopted various measures for the Swiss Financial Center to accelerate action in sustainable finance on 17 November 2021 and published the three media releases:
FINMA published guidance on preventing and combating greenwashing on 3 November 2021. The guidance includes expectations and current practices surrounding sustainability-related collective investment schemes on the level of funds and institutions as well as rules of conduct at the point of sale. SSF has collected a brief summary of the announcement here. The original FINMA keynote on "Sustainable Finance" can be downloaded here.
As a member of the Network for Greening the Financial System (NGFS), FINMA committed to the implementation of the relevant recommendations on 3 November 2021. FINMA announced to actively integrate climate-related financial risk into its supervisory practices and is developing concepts to adequately supervise climate risk management by banks and insurers.
The Swiss Federal Council rejects the abolition of stamp duties on sustainable finance products on 3 November 2021. (Available in German, French and Italian)
EU News
International News
Market trends
The Sustainability Accounting Standards Board (SASB) issued a new XBLR taxonomy to improve ESG reporting and data analysis and comparability. XBRL is an open standard used in business reporting, so this move will allow reported metrics to be read via digital tags by machine.
London takes the lead in the eighth edition of the Global Green Finance Index, while Zürich and Geneva both remain high on the list with rank 4 and 6.
New members and network partners
SSF and sustainable finance in the media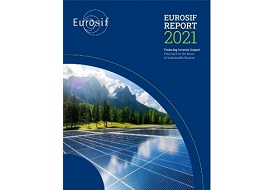 Eurosif Report 2021: Fostering Investor Impact – placing it at the heart of sustainable finance
This 2021 Eurosif report seeks to shift the narrative and set a new course for sustainable finance by focusing on how finance can achieve positive outcomes in the real world.
More >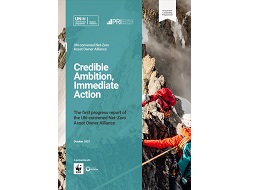 Credible Ambition, Immediate Action: The first progress report of the UN-convened Net-Zero Asset Owner Alliance
This report summarises the actions, activities and achievements of the UN-convened Net-Zero Asset Owner Alliance and its signatories since its inception in September 2019.
More >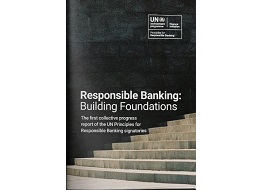 Responsible Banking: Building Foundations – The first collective progress report of the UN Principles for Responsible Banking signatories
This report forms an overview of over 200 individual reports by signatories and presents the status of their PRB framework implementation and their alignment with the SDGs and the Paris Agreement.
More >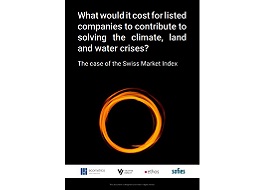 What would it cost for listed companies to contribute to solving the climate, land and water crises? The case of the Swiss Market Index
This study, co-funded by Ethos, published in early November measured, for the first time, the investments required for the largest industrial listed companies in Switzerland to reduce their net greenhouse gas emissions to zero and to continue to operate while preserving the planet's water and cropland reserves. Such Investments should also allow them to ultimately save CHF 34 billion per year.
More >
Already a member or partner? Make sure you are featured on our website. Get in touch with us to upload your member or network partner profile now.
Interested in joining our network of members and partners? > Learn more
SWISS SUSTAINABLE FINANCE