Alexandra Lau
COO and member of the executive committee, BLKB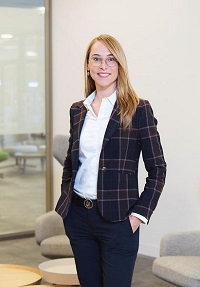 Alexandra Lau is member of the executive committee of BLKB where she heads the business unit Strategy & Market Services (COO). Among others, she is responsible for sustainability and drives all related initiatives across the entire bank, ensuring that sustainability is not only rooted in the bank's strategy but also translated into culture, objectives and business targets. In her previous professional life and early career she gained relevant experience in sustainability related topics. In her previous role as head of Legal & Compliance at BLKB, she lay the ground to assess also financing transactions on their impact on sustainability by developing and implementing a reputational risk management concept.
Before, she held various positions at Credit Suisse, where, among others, she gained profound experience in the lending business heading Business Risk Management for Corporate and Specialty Lending. This role included the management of reputational risks, ensuring compliance with regulation and sustainability standards.
Alexandra holds a Masters Degree in International Affairs and Governance from the University St. Gallen (HSG).