SSF present at other events 2019
SSF representatives are regularly taking part in events organised by third parties to present the objectives and activities of SSF and inform on sustainable finance.
Select an event in the table below and find out more about the events in which SSF was involved in 2019.
Launch of "Finresp" at COP25
madrid, 9 December 2019
SSF was happy to been in Madrid during COP25 for the launch of Finresp (Centro de Finanzas Sostenibles y Responsables de España) in Spain, to share Swiss experiences and discuss how only by bringing together the full potential of public and private finance, can we tackle climate change and work towards achieving the Paris agreement.
---
Oikos Conference "Finance in Motion"
St. gallen, 27 November 2019
Sabine Döbeli, SSF CEO moderated a high-level panel featuring André Hoffman, Vice Chairman of Roche, Thomas Velacott, CEO WWF Switzerland, Andreas Knörzer, Vice Chairman at Vontobel Asset Management, and Manuel Ammann, Professor for finance at HSG, on sustainability and competitiveness in the financial sector. The panellists agreed on the important role finance has to play in the shift to a sustainable economy but expressed differing opinions on the degree to which finance is already taking on its responsibility, a question which was also challenged by the interested audience from HSG students and professors.
---
Apéritif "Marché monétaire"
Geneva, 14 November 2019
During the 2019 edition of the apéritif "marché monétaire" organised by the Swiss National Bank (SNB), Jean Laville, Deputy CEO SSF, joined a panel to discuss the topic of climate risks and central banks. In particular the perspective of the SNB was discussed by the different actors present, which included Andréa Maechler, Member of the Governing Board of the SNB.
---
Pension Fund Forum Zurich
Zurich, 14 November 2019
SSF CEO Sabine Döbeli provided insights into future trends in sustainable finance relevant for Swiss Pension Funds to an audience of Swiss pension fund representatives. In a debate with Philipp Aerni, Director, Center for Corporate Responsibility and Sustainability, Marco Betti, CEO, Valitas Collective Foundation and Christoph Ryter, CEO, Migros Pension Fund she stressed the importance, that pension funds develop sustainable investment policies tailored to their specific situation and needs.
---
Swiss International Finance Forum (SIFF)
Zurich, 6 November 2019
SSF was present at this year's SIFF as a partner, and CEO Sabine Döbeli moderated the session "Sustainable Finance: More than just a hype". The high-level panel featuring Urban Angehrn, Group CIO, Zurich, Guido Fürer, Group CIO, Swiss Re, Mirjam Staub-Bisang, Country Head, BlackRock Switzerland, Daniela Stoffel, State Secretary for International Finance and Patrick Scheurle, CEO, BlueOrchard Finance Ltd discussed the crucial role financial players have in shifting their funds to companies that are part of the solution in creating a sustainable economy. The insurance industry has taken important steps in adopting sustainable investment policies while more innovative impact investing solutions are needed to bring such investments to scale.
---
FC4S/Southpole Webinar
4 November 2019
In a webinar organised by EIC Climate KIC, Southpole and FC4S on Sustainable Finance Innovation among European Financial Centres, SSF provided an overview on Swiss strengths in sustainable finance, alongside speakers from the EU, France and Academics.
---
PK-Netz Annual Symposium
zurich, 31 october 2019
In keynotes held by Thomas Jordan, Chairman of the Governing Board of the Swiss National Bank, Ruedi Rechsteiner, President Ethos Foundation and other speakers, challenges of Swiss pension funds and possible solutions were debated. Sabine Döbeli gave an overview on important regulatory developments in sustainable finance relevant for Swiss pension funds at this event directed at employees' representatives in Swiss pension fund boards.
STSA Trade Finance Sessions: Trade Finance & Sustainability
geneva, 7 october 2019
During the opening of Geneva Commodity Week 2019, a special session organised by the Swiss Trading and Shipping Association (STSA) focused on sustainable trade finance. Jean Laville, SSF Deputy CEO presented a practical example of integration of sustainability criteria in financing operations and discussed this with representatives of the OECD working sustainable trade finance.
---
PRI in Person
Paris, 10/11 September 2019
At this year's PRI in person held in Paris, SSF Deputy CEO Jean Laville organised and participated in a panel on the topic of responsible finance and the importance of training and education for institutional investors.
---
Swiss Green Economy Symposium 2019
winterthur, 3 september 2019
SSF participated at the 5th Swiss Green Economy Symposium, a platform for discussing and exchanging successful solutions and projects that help master complex environmental, social and economic challenges. As part of the Symposium, Sabine Döbeli, SSF CEO, moderated an Innovation Forum on how to achieve impact and innovation in sustainable investing and finance.
---
Swiss Pensions Conference
rüschlikon, 27 June 2019
At the Swiss Pensions Conference entitled "Nachhaltig Anlegen – wirksam oder scheinheilig", organised CFA Society Switzerland, SSF was a partner, and CEO Sabine Döbeli guided through the day as the Master of Ceremony.
Breakfast Conference: Responsible Investment
Zurich, 27 June 2019
Under the title of "Is there a growth crisis?" Société Générale held an event discussing the recent developments in the responsible investment industry. At the event, Kelly Hess, SSF Director Projects, presented the results from the Swiss Sustainable Investment Market Study 2019, explaining the growth figures and highlighting the nuances for the different SI approaches.
Annual Conference of Swiss Develoment Cooperation
fribourg, 21 June 2019
At the Annual Swiss Development Cooperation Conference, organized by SECO and the SDC, Sabine Döbeli provided input as part of a round table which discussed new financing solutions for a sustainable future. In particular, the panel talked about collaboration between different stakeholders and the specific requirements by finance partners.
TBLI Conference Europe
Zurich, 12-13 June 2019
At the TBLI Conference Europe held in Zurich, SSF CEO Sabine Döbeli moderated the pension fund special session. In dialogue with representatives from Swiss pension fund Nest Foundation, a Swiss foundation VELUX and Dutch 21C, the experts discussed particular challenges and opportunities for pension funds.
Geneva Forum for Sustainable Investment
Geneva, 12 June 2019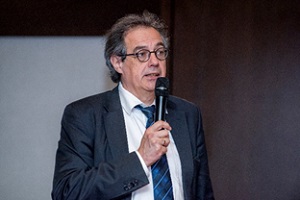 SSF was a partner for 10th edition of the Geneva Forum for Sustainable Investment (GFSI), with Jean Laville, SSF Deputy CEO, moderating a panel with institutional investors. Also at the the GFSI, the Swiss Sustainable Funds Awards were awarded for the first time, amongst others to SSF members Lombard Odier Asset Management, Pictet Asset Management, RobecoSAM, Swisscanto Invest by Zürcher Kantonalbank and Vontobel Asset Management.
Breakfast Meeting - La finanza sostenibile: un'opportunità per il mondo finanziario svizzero
lugano, 28 May 2019
Alberto Stival, SSF Director PR and Communication, gave a presentation, introducing sustainable finance to 25 participants of the Associazione Svizzera di Gestori di Patrimoni (Swiss Association of Asset Mangers) in Lugano.
Creating Positive Impact Through Local Embeddedness: The Contribution of MNE Subsidiaries to Inclusive Growth
Zurich, 28 May 2019
At the conference organised by the Center for Corporate Responsibility and Sustainability (CCRS) at the University of Zurich, Sabine Döbeli held a presentation discussing the actual influence of sustainable finance on the strategies of companies to become more sustainable. During her talk she also addressed the importance of impact reporting and metrics. Read the conference summary here.
---
SwissFoundations Asset Owner Workshop on the Impact of Investments
Zurich, 1 April 2019
On 1 April, SSF joined SwissFoundations for the jointly organized workshop series "Heading for Impact". The first workshop offered representatives from foundations and other asset owners an entry point into impact-oriented investment.
IMMO'19
zurich-oerlikon, 22 january 2019
At the Swiss Property Fair 2019, SSF President Jean-Daniel Gerber spoke about sustainable real estate investing during a session on "SNBS 2.0 Hochbau – Bauen für eine neue Generation", organized by SGS Société Générale de Surveillance. Jean-Daniel Gerber highlighted the recent growth in sustainable real estate portfolios as well as the benefits and opportunities this asset class offers.
The presentation can be downloaded here.
---
OECD Private Finance for Sustainable Development Conference
paris, 18/19 january 2019
The OECD Private Finance for Sustainable Development conference brought together stakeholders from public and private sector to discuss new approaches in using private finance to achieve the SDGs, and also launched a new OECD report Impact Imperative for Financing Sustainable Development. Sabine Döbeli, SSF CEO, participated in a plenary panel on mainstreaming of impact investing and ways to overcome barriers. Transparency both on the side of asset owners and asset managers was seen as a major driver and the panellist welcomed the new standards on impact management and reporting released by different organisations while stressing the importance of aligning them.