SSF present at other events 2018
SSF representatives are regularly taking part in events organised by third parties to present the objectives and activities of SSF and inform on sustainable finance.
Select an event in the table below and find out more about the events, in which SSF was involved in 2018.
Sustainable Finance Conference
paris, 29 november 2018
At the conference "La Finance Durable: Rouage-clé de l'Accord de Paris sur le Climat", organised by the Swiss Embassy in Paris and held during the Climate Finance Week, Sabine Döbeli presented Swiss initiatives and developments in the field of sustainable finance. Along with other conference participants, the impact of the Paris Climate Agreement and its repercussions for sustainable and responsible investing were discussed.
---
Sustainable Investment Day Zug
zug, 22 november 2018
During the Sustainable Investment Day Zug, SSF gave a presentation and participated in a panel discussing the role of institutional investors for sustainable investing.
---
Wissenschaft & Praxis für grüne Finanzen
zurich, 19 november 2018
The Swiss Federal Office for the Environment, jointly with Environmental Ministries from Germany, Austria and Lichtenstein, invited representatives from the financial industry and from universities to a conference for an exchange of experience on the topic of science and practice for green finance. Sabine Döbeli, SSF CEO, moderated the afternoon session as well as a panel on the implementation of sustainable and green financial markets.
---
Forum Cinfo
Berne, 16 november 2018
At this year's Forum Cinfo, the Swiss career event for international cooperation, SSF was part of a panel discussion on "Opportunities in the private sector: entrepreneurship, sustainable finance and impact investing". Sabine Döbeli, SSF CEO gave insights into the important role of private finance for development and related job opportunities in sustainable finance. The panel further discussed possible career paths in sustainability and the private sector in general and encouraged the audience to bring their experience to the financial sector.
Link to conference video: https://vimeo.com/302834245
---
Climate Innovation Summit
dublin, 6-7 november 2018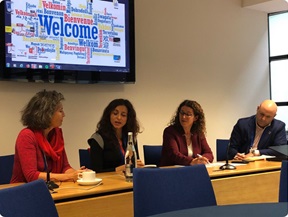 During the Climate Innovation Summit in Dublin, Financial Centres for Sustainability (FC4S) launched the European Hub of the FC4S network. SSF represented Swiss views at the summit and participated in a panel on the exchange between African and European green finance hubs.
---
Swiss International Finance Forum
zurich, 25 october 2018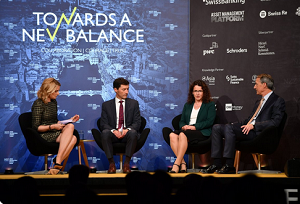 With the theme "Towards a New Balance- Collaboration, Courage, Trust" experts from Switzerland and abroad discussed the new reality in the finance sector. Sabine Döbeli, SSF CEO, participated in a panel discussion on sustainable finance as a change for Switzerland.
---
World Investment Forum
Geneva, 22-26 october 2018
The 10th anniversary of the World Investment Forum took place in Geneva under the title of "Investing in Sustainable Development". Jean Laville, SSF Deputy CEO, spoke at a session on sovereign wealth and pension funds dialogue, along with ministers, executives of Sovereign Wealth Funds and other development financing partners.
---
FC4S Meeting in Shanghai
shanghai, 18-19 october 2018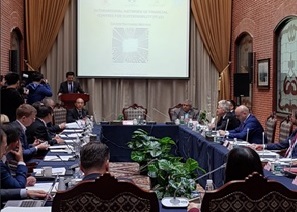 As a founding member, SSF participated in the second meeting of the Financial Centres for Sustainability (FC4S) network. SSF was elected into the Steering Committee of FC4S, with the aim to bring Swiss perspectives into the upcoming activities of the network and into discussions on next priorities.
---
FINTECH+
zurich, 1 october 2018
How can fintech enhance projects around environmental sustainability, financial inclusion and humanitarian initiatives, and what new solutions stem from innovation within this field?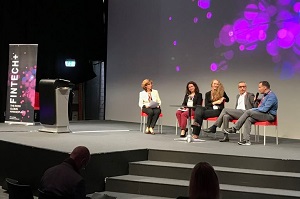 These questions were discussed by panellists Sabine Döbeli, SSF CEO, Oliver Marchand, Carbon Delta, Anna Stünzi, foraus, Rochus Mommartz, ResponsAbility Investments AG, at the FINTECH + Conference. Watch the panel discussion video here.
---
TAIC Investment Roundtable: The impact of the UN sustainable development goals on the investment world - from ideology to investment opportunities
zurich, 18 september 2018
Kelly Hess, Senior Project Manager SSF, took part in a panel on "The impact of the UN sustainable development goals on the investment world – from an ideology to investment opportunities" organized by The Alternative Investment Club (TAIC).
During the panel, Kelly Hess gave a short presentation on the role of the sustainable development goals for investors. Other panellists included Peter Fanconi, BlueOrchard Finance, Pascal Imhof, DWS, Reto Ringger, Globalance Bank, Tillman Sachs, J8 Capital Management.
---
Swiss Green Economy Symposium
winterthur, 4 september 2018
SSF participated at the 4th Swiss Green Economy Symposium, a platform for discussing and exchanging successful solutions and projects that help master complex environmental, social and economic challenges. As part of the Symposium, Sabine Döbeli,SSF CEO, moderated an Innovation Forum on "Sustainable investing and finance: new trends in practice".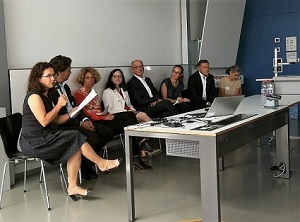 Experts from different sectors, including Prof. Timo Busch, University of Hamburg and University of Zurich, Elvira Bieri, Managing Director Switzerland of SGS, and Yvonne Suter, Global Head of Sustainable Investment at Credit Suisse, first gave practical insights into their experiences in sustainable finance. In the subsequent panel discussion, other experts brought in their view on trends in sustainable finance. Changing client expectations were seen as an important driver while panellists confirmed that the performance of sustainable investments compared well to standard products. Broad ESG integration was considered a major trend while the lack of standards was understood as a barrier. At the end, the active and mixed audience were able to give their opinion on whether they consider standards necessary, and address other questions to the panellists.
---
Lecture on Finance for the Future
Zurich, 23 august 2018
As part of a joint effort by the University of Zurich and the Canton of Zurich, a Chinese delegation from Guangdong attended multiple trainings on banking and finance at the University of Zurich and visited different Swiss institutions and companies. In this context, Kelly Hess gave a guest lecture on Finance for the Future, addressing topics such as Sustainable investment basics, performance of sustainable investments, Swiss market characteristics and regulatory trends.
---
Geneva Forum for Sustainable Investment 2018
Geneva, 31 May 2018
At the 9th edition of the GFSI, showcasing key players in responsible finance and innovative solutions to challenges coming with the energy transition, Jean Laville (Deputy CEO, SSF) presented the Swiss Sustainable Investment Market Study 2018 in front of 300 financial professionals. The most striking aspect was the strong growth of asset owner assets, also linked to increased survey reach.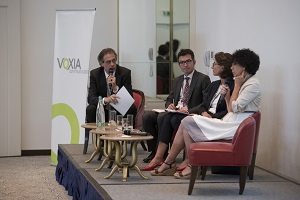 To round off the event, Jean Laville also moderated the final panel of the evening on how to implement a socially responsible investment policy. The panelists included Laure Castella (Risk Manager, Retraites populaires Lausanne), Sophie Cathala (Director, Pension Fund - Comité International de la Croix-Rouge) and Benoit Piette (Senior Consultant, MBS Capital Advice).
Download presentation on SSF Market Study Results - Asset Owner focus
---
SIF Roundtable on sustainable fintech
bern, 25 May 2018
At a roundtable on green and sustainable fintech organised by the Swiss State Secretariat on International Financial Matters (SIF) Sabine Döbeli gave an overview on Swiss players providing innovative fintech as a basis for sustainable finance. The consequent discussion revealed promising growth opportunities for Switzerland in this emerging field.
---
RFI Summit
Zurich, 26 April 2018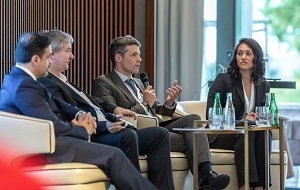 The Responsible Finance & Investment Foundation (RFI) and Swiss Arab Network (SAN) organised this two-day event to build awareness of shared values that can bring socially responsible investing (SRI), environmental, social and governance (ESG) and Islamic finance together to increase their positive impact. The RFI Summit brought together responsible finance leaders to discuss, share case studies and collaborate to identify actions that will mainstream impact finance across the financial sector to support more equitable, inclusive and sustainable economic growth.
As a partner of the event, SSF moderated the opening panel on the "Spectrum of impact finance & Islamic finance". Kelly Hess (Senior Project Manager, SSF) led the discussion between Eric Usher (Head, UNEP FI), Christian Heyner (President, 1bank4all Founding Association) and Abdulla Al Awar (CEO, Dubai Islamic Economy Development Centre). The panelist brought in their views about the changing direction of perspectives from purely looking at sustainable finance as a risk reduction effort to now also actively seeking to demonstrate specific impacts.
---
Inaugural meeting of Financial Centres for Sustainability (FC4S)
Milan, 12-13 April 2018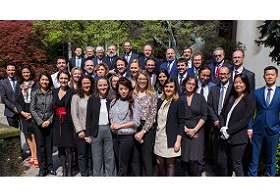 On April 13, the inaugural meeting of the new UN-related initiative FC4S was held in Milan. Both Geneva and Zurich were represented at the meeting bringing in their respective experience in sustainable finance. The 18 members of the network defined priorities for network activities. They agreed a five-point action plan to
build international cooperation among financial centres on climate action and sustainable development:
Strengthen links among members, including through regional hubs for Europe, Asia and Africa. The European hub has just been launched in partnership with Climate-KIC. These hubs will involve centres in the regions as well as internationally
Develop a robust benchmarking and assessment tool to enable financial centres to evaluate their progress and inspire further action. This will build on initial work presented in 2017 by I4CE and PWC.
Develop a joint statement on the importance of effective taxonomies for green and sustainable finance. A common language is key if green and sustainable finance is to develop in a trusted and dynamic fashion across the world.
Share experience on green digital finance, including through testing the Green Assets Wallet, a new approach to improve efficiency and transparency in the green debt market.
Gather the experience of financial centres in the development of the green bond market. This resulting briefing paper will be produced together with the Climate Bonds Initiative.
Furthermore, FC4S announced that the secretariat of the initiative will be established in Geneva offering valuable links to the international organisations based there.
Read press release on inaugural meeting
---
Sustainable Investments - Doing good without sacrificing returns?
Zurich, 27 March, Geneva, 28 March
SSF partnered with Swiss Funds & Asset Managment Association (SFAMA) for the Asset Management Greenhouse Event Series, to establish a community of investment professionals sharing common values and supporting the strong reputation of the Swiss financial center. After a welcome note by Lorenz Arnet (Managing Director SFAMA), Sabine Döbeli (CEO, Swiss Sustainable Finance) and Jean Laville (Deputy, SSF) were present in Zurich and Geneva respectively to explain the benefits of sustainable finance with regards to risk management and showcased the newest regulatory developments in Switzerland and abroad. This overview was followed by a presentation on sustainable investment funds on the Swiss market by Dr. Manfred Stüttgen (Lecturer, IFZ Zug) and a contribution by Dr. Gerhard Wagner (Head of ESG SOlutions, Swisscanto Inves by ZKB), where he evaluated impact investment in listed companies. To round up the event, Regula Faeh O'Neal (UBS) moderated a panel discussion including all presenters on current trends and challenges in sustainable investments.
---
Inaugural Conference of Northern European Partnership on Sustainable Finance
London, 6 March 2018
SSF participated in the inaugural conference of Northern European Partnership for Sustainable Finance (NEPSF), hosted by the Smith School of Oxford University, the City of London and the UK Green Finance Initiative in London. This initiative was established as an international collaboration designed to ensure that Northern Europe continues to be the centre of innovation in sustainable finance and investment and drives progress internationally. The Partnership involves organisations and representatives from Austria, Belgium, Denmark, Finland, France, Germany, Ireland, Italy, Luxembourg, the Netherlands, Norway, Sweden, Switzerland, and the UK, as well as representatives from relevant European institutions. At the event, Sabine Döbeli (CEO, SSF) presented SSF during a panel on the connection of national and subnational initiatives across Northern Europe. Besides showcasing the different initiatives in each country, the conference also touched upon innovation in investment products and practices, sustainable finance and public policy outcomes, as well as financial regulation and its impact on the environment.
---
Sustainable Investments Panel
Zurich, 31 January 2018
During the first day of FINANZ'18 on 31 January, Kelly Hess (Senior Project Manager, SSF) moderated a panel on Sustainable Investments, where she asked sustainability professionals in asset management for their view with regards to the changes they had perceived in the sustainable investment field and how this had influenced business as usual. The panelists were Sarah Norris (Portfolio Manager Global Equity Impact Fund, Aberdeen Standard Investments), Seema Suchak (Sustainable Investment Analyst, Schroders), Zoë VanderWolk (Senior Associate, Accessible clean Energy Fund, Quaero Capital SA) and Daniel Wild (Head of Sustainability Investing R&D).
---
SNBS 2.0 Nachhaltiges Bauen – Markt- und Investmentsicht
Zurich, 31 January 2018
SSF, represented by the Board Member Patrick Fankhauser (Head of Sales and Business Development, Inrate) supported the launching event of the official SNBS 2.0 (Standard nachhaltiges Bauen Schweiz), organised by SGS, which aimed to portray the substantive requirements of SNBS 2.0 building construction, the impact sustainability aspects have on property valuation as well as the significance real estate investors attribute to it. Speakers at the event included Elvira Bieri (Managing Director, SGS Société Générale de Surveillance SA), Hanspeter Konrad (Director of Swiss Pension Fund Association (ASIP)), Pierre Stämpfli (President, «Royal Institution of Chartered Surveyors» (RICS) Switzerland), Andreas Meyer Primavesi (CEO, Minergie), Ivan Anton (Director, Wüest Partner AG), David Mastrogiacomo (Director Technology for German part of Switzerland, Losinger Marazzi AG), Roger Baumann (Global COO & Head Sustainability / Co-Head Germany, Credit Suisse Global Real Estate Credit Suisse Asset Management (Schweiz) AG), Daniel Wehrli (Project leader East and Member of the Direction at Helvetia Insurances) amongst others.