EU Action Plan on Sustainable Finance
18 December 2019: In this Focus, SSF provides an overview and status report of five of the key EU sustainable finance initiatives most relevant to Swiss financial institutions. The publication also contains a section on how Swiss institutions may be affected by the EU legislative measures, providing suggestions on a possible course of action. Additionally, the Focus looks at Swiss policy-related developments occurring in the area of sustainable finance.
Download the report: EN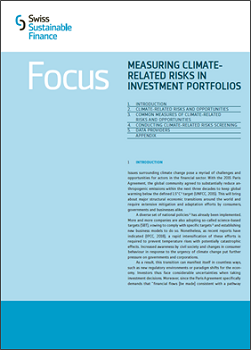 Measuring Climate-Related Risks in Investment Portfolios
4 March 2019: In the second issue of the "Focus" publication series, SSF provides a concise overview on existing practices to measure climate-related risks of investments in investment portfolios. The publication gives practical guidance for investors seeking to measure the climate risks of their portfolios. Finally, given the increasing focus on aligning portfolios with internationally agreed climate scenarios, the publication also discusses future developments in the field.
Download the report: EN
Controversial Weapons Exclusions
15 November 2017: This factsheet is the first in the new series "Focus" published by SSF. In this edition, we tackle the topic of controversial weapons and what investors need to consider. This short publication provides an overview of the Swiss and international situation related to controversial weapons financing and investments. Additionally, it covers potential risks linked to not adequately addressing related issues for financing, investing and underwriting activities.