Swiss investments for a better world
The first market study on investments for development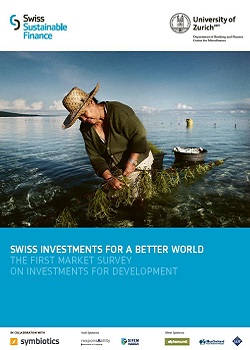 12 April 2016: The first Swiss Sustainable Finance study, 'Swiss Investments for a Better World', offers a detailed overview of the structure and dynamics of the Swiss market for investments in development. The report was produced in partnership with the Center for Microfinance of the University of Zurich and Symbiotics.
The survey of asset managers, banks and institutional investors made it possible to analyse the asset allocation (incl. the structure of the portfolios), the investment characteristics (currencies, portfolio quality, regional allocation and socio-economic and environmental indicators), as well as the financial returns (incl. risk and liquidity).
The report also presents four case studies showcasing innovative approaches to the financing of education, agriculture, and SMEs in different sectors in developing countries.
---
Infographics from the report