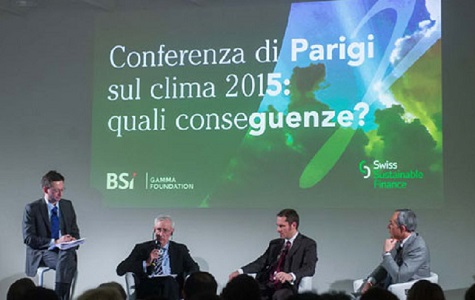 As the marginal costs for improving efficiency and reducing emissions are much lower in the developing world, careful consideration of where/when/how to finance projects is necessary to efficiently and effectively fight the battle against climate change.
Some of these shortcomings can be countered by integrating ESG data in fundamental financial analysis – showcased through the example of stranded assets discussed by René Nicolodi (Head of Equities ZKB). Philipp Krüger, provided academic evidence based on his study which shows a positive correlation between ESG and financial performance of listed companies. Thereby ESG performance correlated positively with Cash Flow and negatively with Weighted Average Cost of Capital. Sabine Döbeli (CEO SSF) and Jean Laville (Deputy CEO SSF) underlined that there is an increasing demand for sustainable investing, especially by institutional investors and regulators in Europe, slowly also taking up in Switzerland.
The workshop closed with the analysis of a case study company from a "traditional" analyst perspective (Andreas von Arx (Baader-Helvea) and Claudia von Türk (Banque Lombard Odier & Cie S.A.)) and an ESG analyst perspective (Simon Perrin (Vescore SA) and Marion Swoboda (ZKB)). It became clear that both approaches share common difficulties such as the access to information, or its comparability and reliability.
One of the clear messages of the workshop was that it is in the interest of Swiss asset managers to increasingly consider ESG factors. This creates new investment opportunities, reduces risks and strengthens thereby the competitive advantage of the Swiss asset management sector.
---